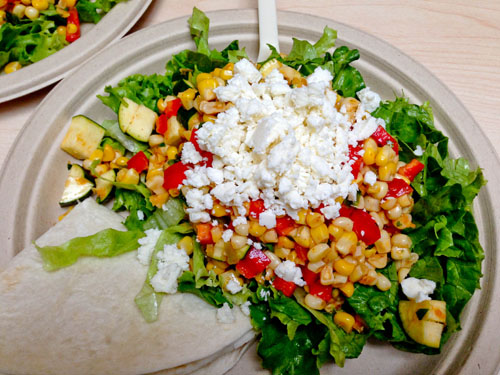 Vacation's over….back to posting.  The middle of summer means fresh corn on the cob.  I made use of 6 cobs here.  I thought I may have over cooked the corn, since it sort of just looked like canned corn after I was done, but it still had quite of bit of crunch left.  Here's a hint on how to de-cob corn.  Place a small bowl upside down inside a larger bowl.  Place the corn cob vertically on top of the small bowl and then use your knife to cut off the kernels.  The larger bowl keeps the kernels from flying everywhere all over the counter.  If you have a gas stove you can roast the jalapeno right on a burner.  Cut the top off and then using a chopstick stuck through the middle or tongs, hold the pepper over the open flame of a burner.  Do this until the outside if completely blackened.  Then place the pepper inside a sealed paper bag for a few minutes.  This will trap in humidity and make the skin easy to peel off.
Adapted from Love and Lemons.
Ingredients
makes 5 servings
6 ears of corn, kernels cut from cob
1 tablespoon olive oil
1 garlic clove, minced
1 jalapeno, roasted, peeled and chopped (de-seeded depending on desired heat level)
3 chopped scallions
1 teaspoon salt
a big handful of cilantro
1 zucchini chopped
1 red pepper chopped
1 teaspoon smoked paprika
1 cup crumbled cotija (or feta) cheese
green leaf lettuce, cut into strips
Dressing:
juice from 2 limes
3 Tablespoons olive oil
pinch of salt
Add oil to a large saute pan and add garlic.  Once softened, add corn kernels and cook ~5 minutes.  Mine didn't brown, and I was afraid I was cooking it too long, so 5 minutes should be sufficient.  Add the chopped jalapeno, scallion, salt and paprika to the corn and cook a few more minutes.  Allow corn mixture to cool.
Chop cilantro, zucchini, and red peppers.  Once corn is cool, mix with these veggies and dress with oil/lime mixture.
Serve corn & veggies on top of green leaf lettuce and top with cotija cheese.  A side of tortilla works well with this.

Print