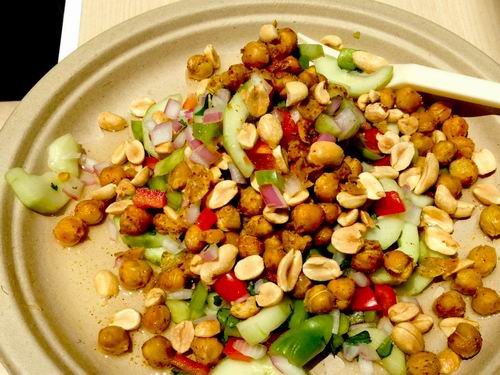 Sorry for not posting in forever.  Things got busy and posting got pushed to the back burner.  We're still making/eating salads though.  We've modified our schedule a bit so we're not actually doing 4 salads a week anymore.  Everyone makes every other week, so we have 3 one week and 2 the following week….  It's a nice break from having to stress and think about making it every week.  Although eating cafeteria food the rest of the days is not as good.
We've had some good salads the past few weeks that I wish I had posted.  Strawberries have made an appearance, I did a nice green bean and cucumber on soba noodles, and today I did what I thought would be a strange one, but it turned out alright:  sweet potato, tomato, pasta, and feta.
With summer vacations and just pure busy-ness at work, I'll probably be posting less until the Fall.  I'll try and post the especially good ones though.  Like this one.  The roasted chickpeas are amazing.  Could eat these alone as a snack.

Adapted from Oh She Glows.
Ingredients:
makes 5 servings
2 medium cucumbers
1 red pepper, diced
1 cup diced red onion
1/4 cup roughly chopped cilantro
1/4 cup chopped roasted peanuts, for garnish
Roasted spiced chickpeas:
1 can chickpeas
1/2 teaspoon olive oil
1/2 teaspoon fine grain sea salt
1/2 teaspoon garlic powder
1/4 teaspoon chili powder
1/4 teaspoon ground ginger
1/4 teaspoon cumin
1/8 teaspoon ground turmeric
Dressing:
1/2 cup rice vinegar
1.5-2 tablespoons natural cane sugar, to taste
1/2 teaspoon fine grain sea salt
Prepare the roasted chickpeas:
Preheat oven to 400F and line a medium baking sheet with a couple pieces of paper towel. Rinse and drain the chickpeas and place onto paper towel. Add a couple paper towels on top and roll the chickpeas around until completely dry. This helps them crisp up in the oven.  Add the chickpeas into a medium mixing bowl and stir in the oil until coated. Now stir in the rest of the seasonings. Discard paper towel and line baking sheet with parchment paper. Add chickpeas back onto the baking sheet. Roast for 20 minutes. Give the pan a gentle shake to stir the chickpeas and roast for another 15-20 minutes, until golden and lightly charred on the bottom. Cool for 5 minutes then top on your salad. They will lose their crispness quickly so these are best enjoyed immediately.  They are still good a day later, but just not crispy.
Whisk together dressing ingredients.
Peel cucumbers, slice off the ends, and slice in half lengthwise. Scoop out the seeds with a small spoon. Slice halves into 1/8-inch "half moons" and toss into a large bowl.  Toss all veggies (including cilantro) with dressing and let sit for at least 30 minutes, this can be done overnight too.  To serve, top with chickpeas and peanuts.

Print