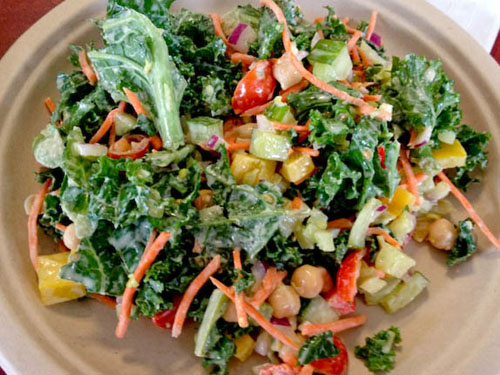 I sometimes don't get around to posting recipes until several days or even weeks after we've actually eaten them.  So sometimes I'm rather surprised at the ingredients once I actually read them.  This one, for instance, has nutritional yeast.  I had no idea what this was.  Apparently it's a source of protein mainly used by vegans and vegetarians, and comes in the form of a yellow powder.  Sounds kind of gross….but the dressing did taste good.  I'm questioning if we actually used the yeast in the dressing.  If I find out otherwise I will post an update.
Sidenote:  I went to see the smitten kitchen book signing today at Omnivore Books.  It was insane.  The book sale line wrapped around the corner probably 150 people deep.  The book signing line wrapped the other way with even more people.  I still can't comprehend why this can't be streamlined into one continuous process (stand in one line, buy book, get book signed)??  I got my Super Natural Every Day book signed by Heidi Swanson here a few years ago and it was not nearly as crazy, but I did have to stand in two lines and was there for over an hour.
The salad is our original recipe.  The dressing was adapted from oh she glows.
Ingredients
makes 5 servings
1 10-oz. bag chopped kale
10 oz. cherry tomatoes, chopped
6-10 oz. shredded carrots
1 red onion, diced
1 red bell pepper, diced
1 yellow bell pepper, diced
1 English cucumber, diced
3-4 stalks celery, diced
1 can garbanzo beans, rinsed and drained
Dressing:
¼ cup tahini
¼ cup nutritional yeast
½ cup lime juice
2 cloves garlic, diced
3 tablespoons olive oil
3 tablespoons water
salt and pepper, to taste
Combine all dressing ingredients in a food processor or blender. Blend. Combine salad ingredients in a large bowl. Toss salad with dressing. Store dressed salad in the refrigerator for at least eight hours or overnight to allow flavors to come together.

Print