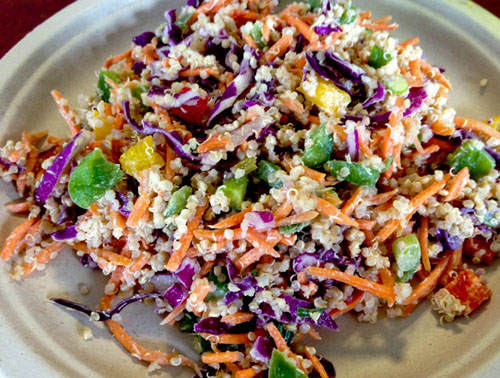 I think this may be the first dressing we made with peanut butter, not sure how that happened.  It was delicious.  When preparing it, be careful not to dilute it too much.  Cucumbers and cilantro might be good additions to this.
Adapted from Vegangela.
Ingredients
makes 5 servings
Ingredients
1 cup quinoa, uncooked
2 cups purple cabbage, chopped
1 red pepper, chopped
1 yellow pepper, chopped
1 green pepper, chopped
2-3 green onions, chopped
Dressing:
3 Tablespoons smooth peanut butter
3 Tablespoons seasoned rice vinegar
2 Tablespoons soy sauce
½ teaspoon hot red pepper flakes
1 small clove garlic, minced
Bring 2 cups of water to a boil in a medium saucepan.  Rinse quinoa and add to water.  Simmer briskly until quinoa is tender, about 15 minutes.  In a large bowl, combine peanut butter, vinegar, soy sauce, hot red pepper flakes, and garlic. Add enough hot tap water (about 2 tablespoons) to thin the mixture to desired consistency.
When quinoa is done, transfer it to the bowl, along with the veggies and toss to combine.

Print