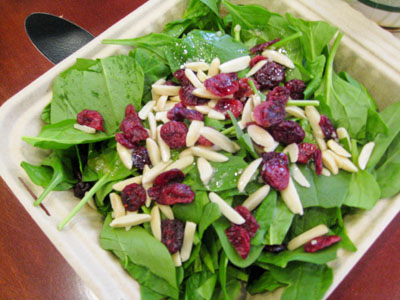 A salad doesn't have to have tons of ingredients to be good.  Sometimes the simplest salads are the best.  And are the easiest to prepare.  This one can be made without even getting out the knife and cutting board.  It follows the salad standard:  green, fruit, and nut.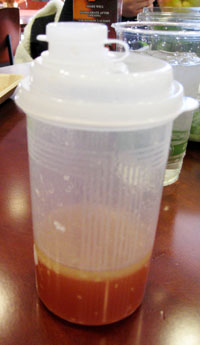 The light dressing with paprika makes this one stand out.  Also, I should note here, this is one of several different types of salad dressing bottles we've tried out.  It's important to find one that doesn't leak and is easy to clean.  In my opinion, the ideal bottle would be one in which you can get your hand in the top of the bottle with a sponge and the lid doesn't have too many crevices to clean in between.  Most dressings have oil and this is very hard to get cleaned out completely.  It also needs a large enough spout to allow larger items (like garlic or shallot) to pour through.  We've bought 4 different bottles, unfortunately none of them are perfect.
Since this salad is made primarily of spinach without anything more dense, we supplemented lunch with some tomato soup.  It was nice to have something warm on this cold day.
This recipe was very loosely adapted from allrecipes.com.
Ingredients
makes 6 servings
2 large containers of spinach
1 package dried cranberries
1 package blanched almonds, slivered
Dressing:
1/2 cup grapeseed oil
1/4 red wine vinegar
1/4 cider vinegar
2 Tablespoons sesame seeds
1/4 teaspoon paprika
1 teaspoon sugar
Whisk together dressing ingredients.  Adjust with sugar if it is too sour.  Toss spinach, cranberries and almonds together with dressing right before serving.

Print