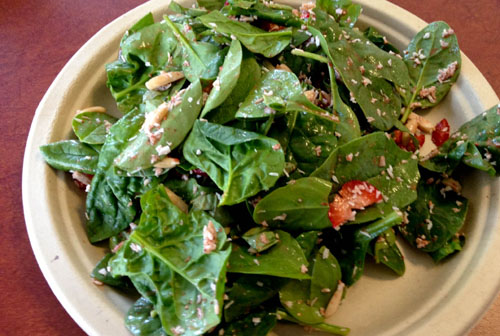 It's strawberry season!  It's still early so we can look forward to a few more months of great strawberries.  Enjoy.
This one is from oh she glows.
Ingredients
makes 4 servings
1/4 cup Slivered almonds, toasted
2-3 Tablespoons shredded unsweetened coconut, toasted
1-2 packages of spinach
24 oz. of strawberries, chopped
chiffonade 1 cup fresh basil
Dressing:
1 cup fresh strawberries
1/4 cup packed fresh basil
3 tbsp fresh lemon juice
1 tbsp extra virgin olive oil
1-2 tsp pure maple syrup, to taste
1/4 teaspoon each of fine grain sea salt & black pepper, to taste
Preheat the oven to 300F. Toast the almonds for about 7-8 minutes and then remove and add the coconut. Toast another 2-4 minutes, or until lightly golden, watching closely so the coconut doesn't burn.  In a food processor, add the strawberries, basil, lemon juice, and oil. Process until smooth. Add in the salt, pepper, and maple syrup to taste and process again.
Toss salad with dressing and serve.

Print