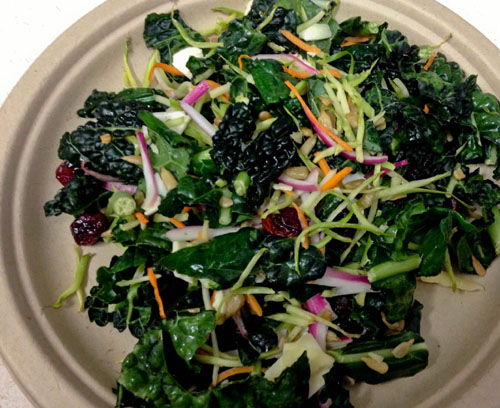 This salad is super easy and really tasty.  It only involved chopping an onion as long as Trader Joe's is stocked with kale and the broccoli slaw.
Adapted from Shutterbean.
Ingredients
makes 4 servings
1 12 oz. bag broccoli slaw
1 bag/head of chopped kale
1/4 red onion, thinly sliced
1/3 cup dried cranberries
1/3 cup roasted sunflower seeds
1/4 cup shaved parmesan
Dressing:
6 tablespoons extra virgin olive oil
juice from 1/2 lemon
2 tablespoons balsamic vinegar
salt & pepper
Mix olive oil with balsamic vinegar.  Add salt & pepper to taste,
In a large bowl, toss the broccoli slaw, kale, red onions,dried cranberries, sunflower seeds with dressing until well combined.

Print