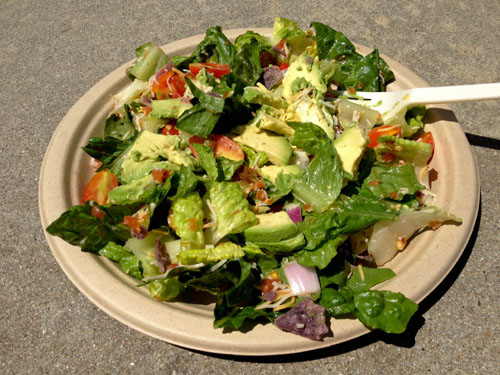 I had some ingredients leftover from taco night, so I decided to make a mexican style salad.  These are so easy, but so tasty.  The dressing is literally just salsa (I recommend the brand Casa Sanchez), I added some lemon and olive oil last minute, but not sure it needed it.  Eat up avocados now while they're good.
Ingredients
makes 5 servings
3 hearts of romaine, chopped
1/4 red onion, chopped
1 cup grated cheddar cheese
1 box cherry tomatoes, halved
1/2 red pepper, chopped
2 avocados, chopped
1/2 cup blue corn tortilla chips, crushed
Dressing:
fresh salsa (Casa Sanchez)
juice from 1/2 lemon
1-2 Tablespoons olive oil
Toss all salad ingredients with the salsa.  Squeeze on some fresh lemon and drizzle with olive oil, if desired.

Print