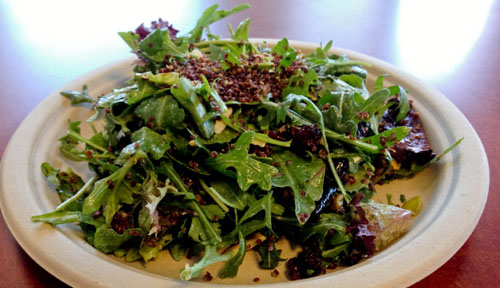 I used red quinoa in this recipe because I finally found it for a decent price at Trader Joes.  Regular golden color quinoa can be used as well.  I called this "Crispy" quinoa because mine didn't really turn out crispy.  It definitely had a different texture than regularly cooked quinoa, but I wouldn't say it was crisp.  More like hard and chewy, which doesn't sound so good, but was actually quite nice.
When sauteing the quinoa, it will loose about 1/4 of its volume after it is done.  The original recipe says it'll take 2-3 minutes to get "crispy."  Mine took >15 minutes, but I also added too much water while it was boiling, so crisping time will vary.  Not sure if you can see the difference in these pictures, but the before quinoa is fluffier and soft.  The after quinoa is harder and rolls around in the pan.  During this whole process I just felt like I cooked quinoa and then was turning it back into dried quinoa, haha.
Before: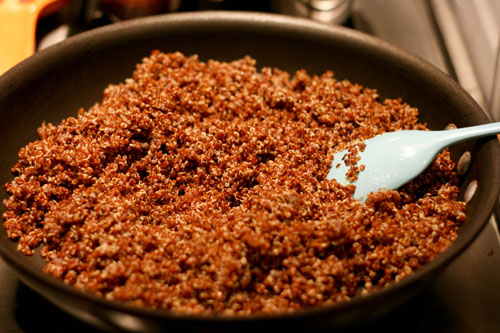 After: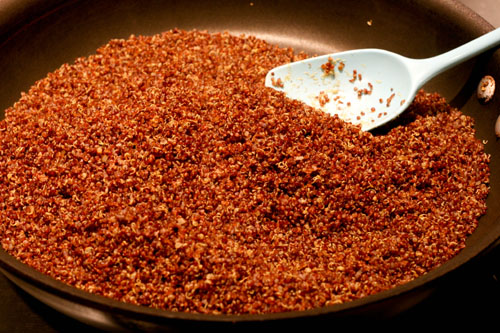 Adapted from Sprouted Kitchen.
Ingredients
makes 5 servings
2 Tbsp. canola oil
1-1/2 cups of uncooked quinoa
2 -1/4 cups water
1 teaspoon salt
1 bag of arugula
1 bag of mixed greens
1/2 cup almond slivers
1 cup dried cranberries
Dressing:
1/4 cup meyer lemon juice (regular lemon will work too)
1 clove garlic, finely minced or grated
2 Tablespoons red wine vinegar
1 Tablespoons honey
1 teaspoon salt
1 teaspoon dried italian herbs (mix of oregano, parsley, basil)
pinch of pepper
1/3 cup greek yogurt or sour cream
3 Tablespoons extra virgin olive oil
When cooking quinoa for this salad you want to use a 1/1.5 ratio of quinoa to liquid when cooking.  I used 1-1/2 cups of dried quinoa with 2-1/4 cups water.  You want a drier, slightly undercooked quinoa before you fry it up so it gets crispy.  Bring quinoa, salt and water to a boil and then lower heat to Low and cover for 15 minutes.  Make sure quinoa is cooked and on the drier side.  If excess liquid remains, drain the water.
Heat canola oil in a saute pan.  Add quinoa and stir.  Saute until quinoa becomes dry and toasted.  This will take 5-15 minutes depending on how dry the original quinoa was.  Quinoa will become harder and will slide around the pan easier than the moist quinoa.  Allow quinoa to cool.  It can be stored overnight in the fridge.
Whisk together dressing ingredients.
Toss together greens, quinoa, almonds, and dried cranberries with dressing.

Print