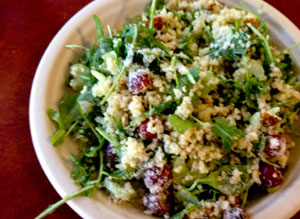 We've realized quinoa is a bugger to photograph.  I guess the small phone screen and the small grain, make it hard to see if its in focus.  Sorry again.  We'll get this right someday.
The original recipe calls for roasted acorn squash, which I coincidentally did have in my kitchen, but didn't have the time, nor did I think this salad needed it, so I left it out.  I think this salad has great texture with the grapes, celery, pecans, and quinoa.  Use a mandoline to thinly slice the celery, it's a time saver.  I bought a cheap mandoline a while back when I made ratatouille for the first time, and didn't think I'd use it much, but turns out I use it all them time, and the cheapness is showing through.  It is broken on one side now, so it's probably time for a new one soon.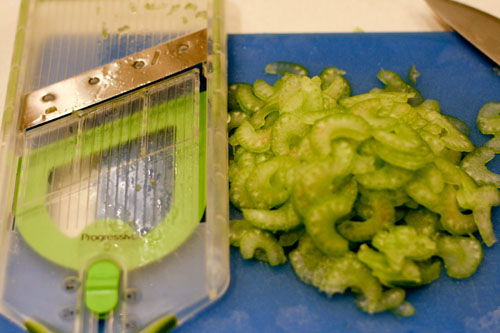 The dressing will be light green in color (from the green onions) and a thicker consistency.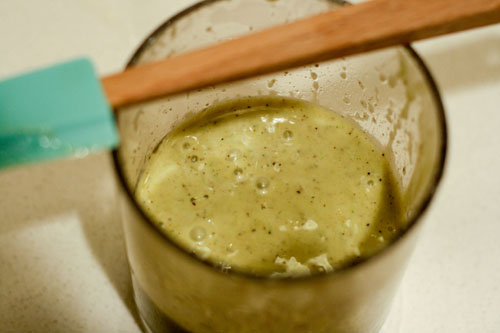 Adapted from Sprouted Kitchen, without the main ingredient.
Ingredients
makes 4 servings
1 package of arugula
2 cups of red grapes, halved
1.5 cups of quinoa, uncooked
1 cup celery, thinly sliced
1/3 cup pecans, coarsely chopped
1/2 cup grated parmesan
Dressing:
4 Tablespoons sour cream
4 Tablespoons olive oil
2 teaspoon honey
4 scallions
1 Tablespoon lemon juice
salt & pepper
Cook quinoa (boil 3 cups of water, add quinoa, cook for 15 minutes on low, covered).  In a mini food processor, blend all dressing ingredients together until smooth.  Adjust honey, lemon juice and salt to taste.  Toss together all ingredients with dressing.

Print